5G networks have promised substantial performance and agility, which will upgrade existing services and unleash new ones, with a solid foundation based on three pillars:
Enhanced Mobile Broadband (eMBB)

Ultra-Reliable Low-Latency Communications (URLLC)

Massive Machine-Type Communications (mMTC)
There are a variety of services designed with demanding requirements on the above pillars. Ultra-high-definition (UHD) Video, Vehicle-to-Everything (V2X), Automated Driving, and Smart Industrial Manufacturing environments are just a few indicative services with high expectations on 5G mobile networks performance. Those requirements impose radical changes on both the radio access network (RAN) and core network architecture of the CSPs to cope with the massively increased commitments for enormous throughput, lightning latency, and a tremendous number of connected devices.
The flexibility of network slicing is offered as a native 5G network feature, along with cloud computing enabling CSPs to develop modern services for enterprises and their private networks. More specifically, Multi-Access Edge Computing (MEC) provides CSPs with the potential to integrate with edge computing and meet the strict requirements of new era applications.

MEC enables application hosting to shift to the edge of the network, close to application clients where data is ingested, generated, and forwarded. The traditional deployment concept that mobile networks have relied on for more than two decades, from the emergence of digital communications packet networks with 2G GPRS core up to 4G Evolved Packet Core, respects a centralized approach of core network elements and applications hosting. Trying to optimize QoE, 5G Standalone (SA) architecture has been revising that established deployment concept and developing a revolutionary architecture for optimal synergy with edge computing.
How 5G enables mobile network and applications integration at the edge
5G SA core network demonstrates a variety of features that facilitate 5G integration with edge computing.
Service-Based Architecture (SBA) for communication between network functions (NFs) has been introduced on the architecture side. Service-oriented communication is a step forward from the typical interface communication established between core network elements, adopted in LTE-EPC and legacy systems. SBA is a milestone for the core network as it allows software-defined network deployment and network virtualization. Thanks to that feature, 5G SA core deployment presents immersive flexibility and scalability, aligned with MEC.
Apart from the architectural alignment described, 5G SA incorporates specific functionalities that serve the integration of MEC. Those functionalities deal with:
Proper traffic steering between the local data network and centralized data network

Enhanced mobility for optimal edge network node selection and service continuity across different UEs

Design that allows access to the edge node & application server only for the UEs connected in cells of a particular geographical area, defining the so-called Local Area Data Network (LADN)
The Mobileum approach to data analytics on the edge
Considering an example of that novel architecture, let's assume a use case of automated driving supported by Cellular Vehicle to Everything (C-V2X) communication. That communication type could be considered an IoT application with strict low latency and connection reliability requirements. V2X, particularly Vehicle to Infrastructure (V2I) or Vehicle to Network (V2N) communication, demands real-time analysis, processing, and communication at high speeds. Therefore, MEC will host the relevant V2X application server and be interconnected with a user-plane function (UPF) 5G SA core network entity, all located at the edge of the network. Thanks to previously discussed MEC enablers, local UPF policies and proper traffic steering take place, and local traffic is served in a way that respects the safety-oriented strict requirements. As a result, traffic between vehicles and the local UPF and application server is served at very low latency in the order of a few milliseconds. In parallel, the rest of the traffic (non-local traffic) is handled through the regular, centralized core network part.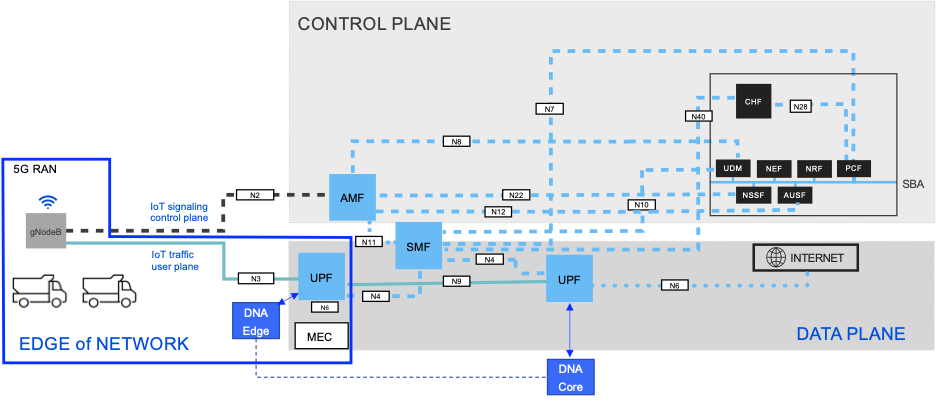 Performance at the edge of the network is a challenge for CSPs due to the local traffic routing. Traditional monitoring solutions for the centralized architecture of the core network cannot provide visibility on this case of offered service. Mobileum overcomes that challenge and enables CSPs, or enterprises in the case of a private network, to monitor and analyze connectivity and data usage of connected devices in such an advanced architecture with 5G Edge Analytics solution. The solution relies on Mobileum Edge Deep Network Analytics (DNA) node, which probes local traffic and interconnects with Core Mobileum DNA. This approach allows obtaining visibility on edge user plane data and the corresponding control plane, which is routed to the core network. Mobileum offers solutions that exploit traffic tracing, control plane logs, and KPIs functionality to provide a holistic and in-depth view of the entire network with data analytics, with support for network edge topics such as:
Connectivity monitoring with QoS metrics

Issues identification through scoring formed by weighted KPIs

Troubleshooting precision with individual device usage information

Reduction on maintenance interventions via remote validation of device status

Identification of legitimate SIMs or non-authorized devices
Contact us to learn more about Mobileum 5G Edge Analytics solution.