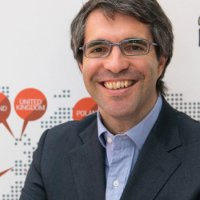 WhatsApp owns no network, Facebook produces no content and Airbnb doesn't operate a single hotel. So just how are they so successful? According to Yuri Van Geest, International Keynote Speaker at our upcoming Enterprise Business Assurance (EBA) Worldwide Summit in May, it's all down to their exponential business models. In other words these companies are able to show a growth rate that becomes ever more rapid in proportion to their size, thanks to the full implementation of communities, big data, smart algorithms and new technologies, among others. As a result, they leave traditional linear organizations far behind.
At the EBA Summit, Yuri will discuss the findings from his new book 'Exponential Organizations', co-written with Salim Ismail, vice president of Yahoo! and Founding Executive Director of Singularity University, and Michael S. Malone, author and journalist at The Wall Street Journal, to present a framework of internal and external attributes for every organization, whether it is a start-up or a multinational, to become an exponential organization. Voted business book of the year 2014 by Frost & Sullivan, the authors researched hundreds of start-ups and companies (from Amazon to Shapeways, Netflix, Tesla, Waze and Github) and interviewed dozens of experts and CEOs from the fastest growing organizations (such as Arianna Huffington and Chris Anderson) to understand the current developments in organizational and technological domains and how exponential technologies are reinventing best practice in business.
This understanding of the forces at play and the resulting changes to business practice will be essential when you consider that the growth of exponential technologies is billed to explode beyond all recognition in the next 25 years - with computers becoming microscopic, nearly infinite in supply, and, essentially, free. Linear business models, with delayed or missing information about their processes, spending, relationships and efficiencies will, in this new world, quite simply fall by the wayside.
Of course, this need for real-time and complete information relating to all a business' processes, customer relationships, suppliers and resulting revenues in order to achieve profitability and growth chimes well with WeDo Technologies' own view of Enterprise Business Assurance (EBA). For us, EBA software allows continuous monitoring and automated controls for financial applications and other business support systems to reduce the costs and limitations of manual oversight. EBA software such as RAID is the technology that assists modern corporations in reducing business losses by improving performance, so we are delighted to welcome Yuri to our event and are keen to hear more about his thoughts and findings.