Debt collection is a key process in any company and an efficient debt collection process is a major success factor in any company as well. As telcos undergo major transformation and evolution towards becoming digital services providers, it is fundamental they can strengthen their collections capabilities and mitigate risks inherent to network and systems changes. They should evolve towards a 'smarter collections process'.
What is a 'smarter' collections process?
Successful transformation doesn't depend exclusively on implementing new technologies, but from transforming the organization by reinventing the business process itself, which is supported in a digital platform and led by people. The impact of business process transformation will depend to a great extent on the ability to embed best practices. So, a smarter collections process can thus be defined as the sum of 4 elements: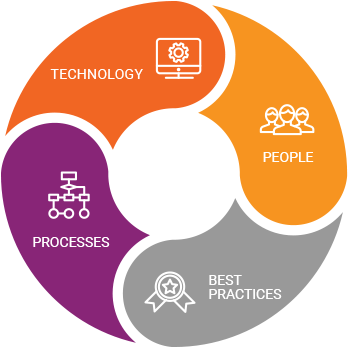 How to digitally transform your collections process?
Service providers looking to create large impact on the collections process and their overall financial performance should adopt a holistic approach, and start by seeking advice of an expert consultancy team, before rushing into adopting the shiniest technology.
The importance of this initial assessment is that it will assess how the day-to-day activities connect to the risk strategy of the company and what operational and strategical gaps there are to be resolved.
The result of this assessment should be an overarching collections strategy for risk mitigation and maturity growth, including the following items:
- Data footprint
- Operating model design and processes mapping
- What changes would give the service provider the highest returns on investment
- Best practices recommendation based on industry expertise
- Definition of roles and responsibilities to optimize the quality, speed of revision, implementation and governance controls
- Customer lifetime value assessment
- Calibration of risks and outcomes to specify the set of rules for each customer segment
- Automation roadmap
- Definition of relevant collections metrics
The process of strategy definition should also include the analytics team. The value of having a team of experienced data scientists collaborating is that they can support any strategy with data points and insights that point the way forward.
By asking data questions such as:
- What would it cost to collect?
- How much effort would it take?
- Which customers are likely to respond to collections activity?
- What is the best time to call? Or the best channel?
- What is the expected pay date for each customer segment?
- What's the propensity of recovery?
analytics enables service providers to gain valuable insights in the expected cost of collecting debt, the expected amount they might collect, optimal repayment levels, the servicing fee that is acceptable to pay to external debt collection agencies, etc. Furthermore, analytics enable service providers to assign staff to the customers whose behavior is most likely to be positively influenced by the strategies they implemented.
Once the strategy is set, technology should come next. The chosen technology should be able to support critical collections stages such as credit risk, credit control and debt collection.
The room for error in the telecom industry is small and customers churn unforgivably, so deploying a solution that is specifically tailored to the telecom industry and knows its particular needs, it's a huge success factor.
The ability to combine these factors - technology, plus the inputs of people (Consulting and Analytics team) in terms of best practices and processes enhancement, is what enables successful collections practices to be timely and relevant for each step of the customer life cycle. The result is a future-ready approach to collections – more efficient and with higher returns.
How can we help you?
WeDo Technologies is known for its Risk and Business Management suite, and has a specific solution for collection processes – RAID Collections. It is an end-to-end solution that automates and expedites credit scoring, credit control and dunning processes. We also provide a Consulting and Advanced Analytics Services for the telecom industry to help service providers accelerate time to revenue while creating exceptional customer experiences.