The world is close to reaching an inflection point as we transition from circuit switch calling to VoLTE calling. Since 2020, 124 2G and 3G networks have shut down, and the GSMA expects that by 2026, another 106 networks will sunset their 2G/3G services across the globe. However, managing this transition can lead to service outages and revenue losses in some scenarios. So, how can operators avoid the 2G/3G sunset disruption?
The ideal solution to manage the transition to VoLTE is for all operators to establish VoLTE roaming agreements with all their partners. But this is easier said than done. As discussed in our earlier blog, Three Ways to Accelerate VoLTE Roaming, the most significant barrier to widespread VoLTE Roaming adoption is that setting up these agreements is highly resource-intensive and time-consuming. This mammoth effort is highlighted when the GSMA estimates that there are more than "1,800 hundred VoLTE compatible devices" across 200 different network operators. Moreover, even if a CSP had the human resources to manage this feat, there are problems beyond its control for example the fact that there are 500+ operators that have yet to launch VoLTE for their customers – representing a significant segment of the global market that CSPs cannot do regular VoLTE roaming deals with at this point.
However, this challenge cannot be left in the too-hard basket because the transition phase between 2G/3G shutdowns and full VoLTE adoption can lead to real consequences for subscribers, as illustrated below.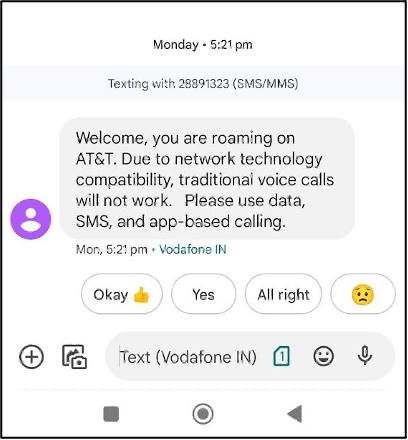 Thankfully, there is a solution that enables CSPs to manage this transition phase while ensuring they avoid service outages and revenue losses. Mobileum's RoamFlow solution provides a comprehensive solution to protect inbound and outbound roamers. RoamFlow enables inbound roamers using a VoLTE-capable device to make VoLTE calls in the absence of a VoLTE roaming agreement. The solution allows network service providers to deliver voice and SMS services to their inbound subscribers over their existing VoLTE network, thereby safeguarding their inbound roaming revenue.
RoamFlow also provides "Sponsored Roaming" solutions, which enable instant roaming coverage and a seamless subscriber experience for home operators that have VoLTE but not a roaming agreement in place or for home operators without an IMS core. For example, Mobileum's Sponsored Roaming (Dual IMSI) solution enables roamers with a VoLTE-capable device to piggyback off a VoLTE roaming agreement of a sponsoring operator. It requires a Multi-IMSI applet on the SIM card so that the device can use the sponsor IMSI when roaming in a network without 2G/3G or alternatively use the Home IMSI in other scenarios. For home operators without an IMS core, Mobileum's Sponsored Roaming platform, along with Mobileum's RoamFlow solution, enables seamless interworking between VoLTE on the visited network side and 3G on the home network side. Additionally, using this solution, the home operator avoids interoperability issues as the VoLTE stack gets enabled on the roaming handset when the sponsor IMSI is selected.
Key benefits of Mobileum's RoamFlow solution include:
Support for both inbound and outbound roaming

Support for prepaid (CAMEL) and postpaid mobile-originated (MO) calls

Support for MO and mobile terminated (MT) SMS over LTE

MT call and call forwarding support

Completely transparent to the home network

Modular solution with IMS core, PGW, PCRF, virtual HSS, virtual MSC, virtual VLR, and required interworking functions. It provides total flexibility to deploy the complete solution or leverage the operator's PGW and/or IMSI core

Call and SMS usage CDR adaptations for seamless integration with billing systems

Emergency calls and LI work seamlessly

Flexible deployment models including on-prem or hosted on the cloud
For operators to minimize the impact of the 2G/3G shutdown and a resulting roaming service outage, they need a mechanism to support 2G/3G fallback to VoLTE calls made in the roaming network. Mobileum's RoamFlow solution enables operators to accept VoLTE connections across numerous networks seamlessly and gives non-VoLTE network operators a solution to roam without requiring either the home or visiting public mobile network (HPMN/VPMN) to make major equipment upgrades. This protects not only a CSP's retail roaming revenue by providing seamless interworking to circuit switch calling but also its wholesale roaming revenues by enabling seamless VoLTE services without a VoLTE roaming agreement in place.
To learn more about how you can protect your roaming revenues throughout the 2G/3G sunset phase, contact us.